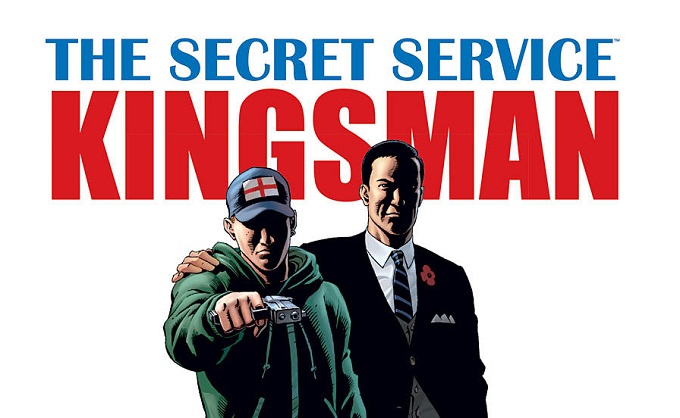 THE SECRET SERVICE: KINGSMAN
Writers: Mark Millar, Matthew Vaughn
$12.99, Icon/Marvel Comics, 160 pgs.
Writer Mark Millar is the king of the "elevator pitch." In Hollywood parlance, the elevator pitch is the art of describing your project in such a way that the high concept (and all the implications therein) can be encapsulated in the thirty seconds you share an elevator with a film producer. As I said, Millar excels at this, which is why so many of his projects attract Hollywood interest. For WANTED, the pitch was, "What if an ordinary nebbish found himself indoctrinated into the secret society of super-assassins to which his dead father once belonged?" For KICK-ASS: "What would happen in real life if a lonely teenager tried to fill the voids in his existence by putting on a costume to fight crime?" For NEMESIS: "What if Batman was the bad guy?" And for THE SECRET SERVICE: "What if an aging James Bond pulled some strings to recruit his ne'er-do-well nephew for grooming as his replacement?"
Millar's work for Marvel Comics includes some of the highest-selling comics of recent years, including THE ULTIMATES and THE ULTIMATES 2 (which greatly influenced Marvel's cinematic film universe) and CIVIL WAR. THE SECRET SERVICE: KINGSMAN was co-plotted with Matthew Vaughn, the director of films such as STARDUST (2007), KICK-ASS (2010), X-MEN: FIRST CLASS (2011), and not coincidentally, the forthcoming film adaptation of this very graphic novel. The art is by Dave Gibbons, one of Britain's greatest living cartoonists, perhaps best known for his work on the landmark WATCHMEN series with writer Alan Moore. So, as you can see, some heavyweight talents worked on this book.
Unfortunately, THE SECRET SERVICE: KINGSMAN comes across as being a little light.
This book wasn't meant to change the face of comics. It's a sardonically dark action-comedy, as Millar's creator-owned work tends to be, and it succeeds on that level. The villain's plot is almost an afterthought shoehorned into the story of our Bond-proxy and his nephew…which is entirely the point, I suppose, but this robs certain characters' story arcs—particularly their deaths—of the gravitas they deserve. That's not a deal-breaker; Millar's style has always relied on a certain measure of callousness in its gallows humor. But THE SECRET SERVICE: KINGSMAN, while a perfectly good graphic novel, underscores precisely why that style isn't everyone's cup of tea.
Does the fact that I really enjoyed this book mean I'm a bad person?
TIPS FOR LIBRARIANS: Millar's KICK-ASS was a popular comic before the movies came out; the films made it even more popular. There's a good chance the forthcoming film will lead readers to this book as well, which is a great opportunity for you to increase your circ figures and introduce people to non-superhero comics at the same time! Plus, being a standalone work priced at only $12.99, it's a bargain.
READERS' ADVISORY NOTES: Note that while the graphic novel is called THE SECRET SERVICE: KINGSMAN, the forthcoming film is called KINGSMAN: THE SECRET SERVICE. Readers who enjoy spy stories, dark comedy, and over-the-top action scenes will devour this book with relish. It is, however, a very adult work (see Content Advisory).
CONTENT ADVISORY: Strong language, graphic violence, nudity and sexual content
Review © 2014, C. Michael Hall.